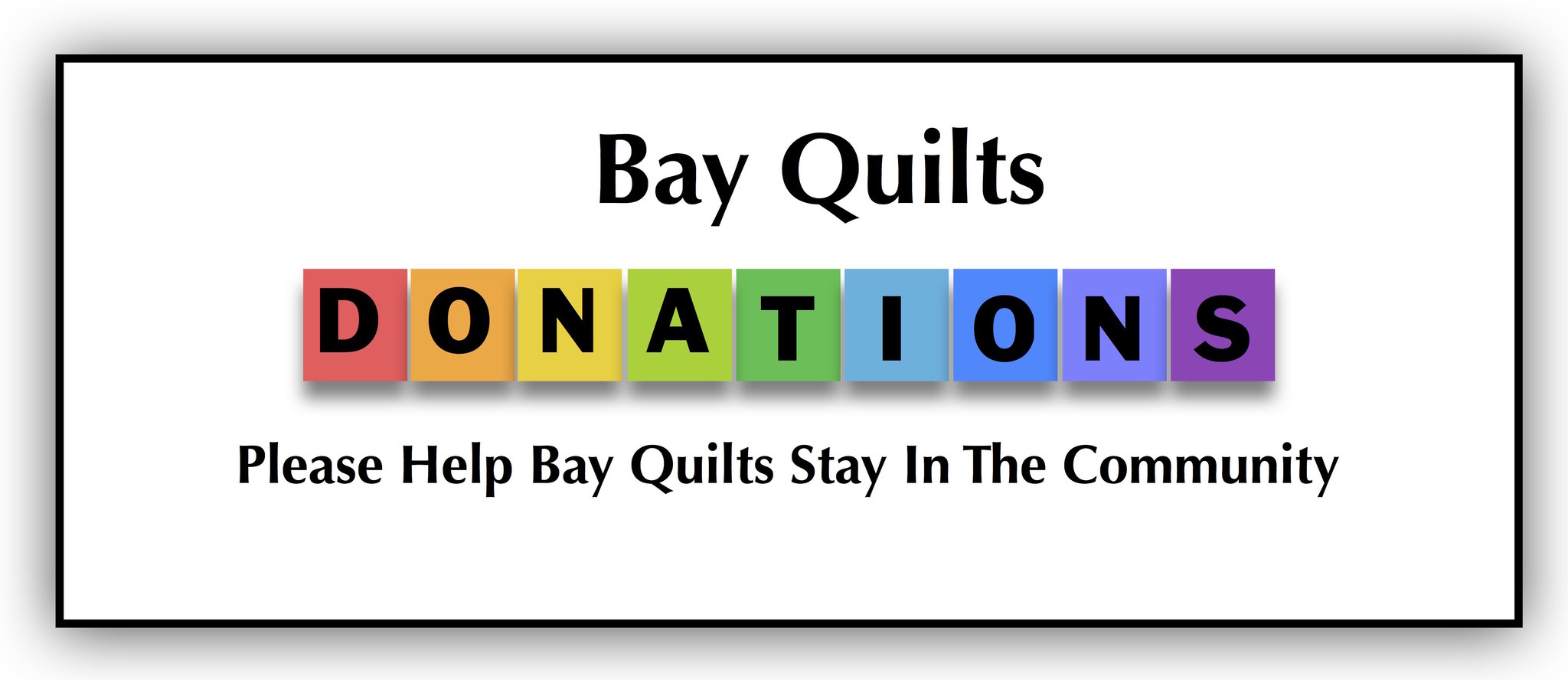 Hello everyone,
Thank you so much for taking the time to read this.
As most of you know Bay Quilts is a shop created from the dreams of the mother and daughter duo, Sally and Abbeyshane. Opening Bay Quilts has been our biggest dream come true and it's one of the greatest achievements we have experienced in our lives. 
Who would have thought 2020 would have been such a crazy year. It was difficult and challenging in ways we never could of predicted. We started the year by being excited and looked forward to everything that was to come. That changed in March when we were mandated to shut down. We never imagined that we would have to stay closed for the next 9 months. In November we had just started taking in-store shopping appointments but right before Christmas we were forced to shut down again until at least January 7th.  

It was a rough year, not only for us, but many small family owned business across the country. It's so sad driving around town and seeing all the business that have had to permanently close due the struggles they faced with to Covid-19. 
Many stores were thriving before the pandemic and since have had to make some gut-wrenching decisions to close down. Many of these places were once staples of the community and now they are deserted and left empty. We know there are so many broken hearts and crushed dreams connected to every single small business that had to close down and we deeply feel for all of them. We have done our best to support all small family-owned, and local business during these times, we know how much help they need because we are all in this together. 
We have gone through a myriad of changes and adjustments to survive and have learned a lot during these times, including our determination to stay in the game.  We love this community more than words can describe and hope that we have created a magical place for you at our shop. It is our goal to make everyone who walks in our doors feel like they are at home. We wanted to not only open a shop but, create an environment where people could come to find a smile on their face and warmth in their hearts because of the experiences and memories they make at Bay Quilts.  
When we had to close our doors to the public in March Abbeyshane started working overtime to get everything in our shop listed on our webpage so we could start selling online. We want to thank anyone who has made an order on our webpage and supported us during these times, we are incredibly grateful. Before March we only had a small sampling of fabric on our webpage and it was a huge scramble to get our inventory listed online so we could provide our goods to our customers and help pay the bills to ride out the storm. We still have much more to list on our webpage and Abbeyshane is working very hard everyday to get it done. We never imagined we would be shut down to in-store shopping for as long as we have and would need to rely on our webpage to keep us in business. Even though many orders have been made we have still had to dip in to our savings every month to make ends meet. 
It has  been a very difficult journey. We have been working around the clock to keep our dream alive and to stay in the community that we love more than anything. At this point we have used all our savings not only from the shops reserve but also our personal savings. When we started to reach the end of our personal savings, we had to start making some very difficult decisions.
We have decided to sell our home and use the proceeds to keep Bay Quilts open until we can get passed the limitations and losses that the pandemic created for us.  We are determined to stay open and in the community. After much consideration and debate we knew that Bay Quilts was more important to us than a house. At this time we are taking a Holiday break to step away from the shop to pack and move our homes.We know after the pandemic passes things will eventually return to a new "normal".  We look forward to the day we are able to open safely to the public again and have everyone in our shop. At that point we will be able to start building our savings up again for ourselves and for Bay Quilts, but until then we will fight to be here and stay open. We want to be here in the future and far past the pandemic when we have all had time to heal from our losses and this dark time. 
We can no longer do it on our own and the clock is ticking. As hard as it is for us, we are setting aside our pride and asking our community for help. After months of debate we finally decided to make a donations page on our website so anyone who wants to help us stay open can do so.
If you can and are willing to donate however big or small we will forever be grateful. We know the pandemic has effected every single person on some level and understand that many people might not be able to help. If you are not in a position to donate please don't feel obligated to do so. Sending us prayers and positive energy is just as important and valuable to us and we are very thankful.
We want to THANK everyone who has placed an order on our webpage or purchased something over the phone in the last 9 months. We are so grateful to you.  You have helped immensely and its keeps us in business. We are so very blessed and happy that you are still coming to us during these turbulent times. We hope to always be here for you for any quilting, sewing, or crafting needs. We love being the place you go to not only for fabric or things you need, but also when you need a little sunshine and smiles. We miss being the place you go to when you want to share stories, projects, and to make some fun and creative memories. We hope we can still be that place for you in the future. 
 Thank you so much for all of your support during these times. We deeply appreciate each and one of you. We look forward to what the New Year will bring.  

Happy New Year!
We hope you are all safe, healthy, and happy.

Much Love and Gratitude,

Abbeyshane and Sally